WELCOME TO THE STUDIO
Whether you're searching for a unique vase to hold your flowers, a beautiful dish to serve food, or a one-of-a-kind mug for your morning coffee you can hopefully find something here.
Each piece is hand crafted on the pottery wheel. Fired in New Zealand manufactured kilns, made in the Deep South of New Zealand; all completely by hand.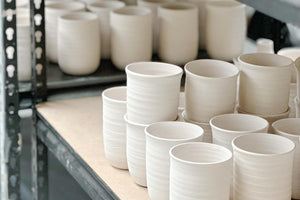 SAM
Sam studied Fine Arts at the Design & Arts College of New Zealand. With a focus on photography and 3D sculpture it was a passion from a young age.
Fast forward a decade and Sam handles the production of every ceramic piece. Starting from a ball of weighed stoneware clay, into a finished, glazed, hand-crafted piece of functional art.